Some Restaurant Promotion Ideas to Increase Revenue on Valentine Day
Valentine's Day, the single most celebrated celebration in the world and is also the second busiest holiday for restaurants. Its not a public or work holiday in any country that I know off. But its an important holiday to pay attention to especially if you are in the restaurant business. Here are some statistics taken from Retail Advertising and Marketing Association on consumer spending habits on Valentine's Day. This is to give you an idea on the importance of promoting Valentine's Day.
– Average spending is $13.19 billion
– Percent of consumers who celebrate Valentine's Day is 61.8%
– 34.6% of those celebrating Valentine's go out for dinner.




Combine this statistics and the fact that Valentine's falls on a Saturday in 2015, you will have money practically falling from heaven if you properly market your Valentine's Day Specials. Below are some Restaurant Promotion Ideas that you could use this Valentine's Day
Host a Facebook Valentine's Day Contest
Running a contest is a fun way to get people into your restaurant. People love winning something. Here are some ideas on contest that you can hold using your Facebook account which is very cost effective. Hold a "Why I am so in love with my other half" picture contest. With the picture with the most likes will receive a bottle of wine when they dine at your restaurant. Please click here to have other Facebook Contest Ideas, Share the Love: 14 Last-Minute Valentine's Day Facebook Contests [Infographic]
Sell Extras
Upsell, add add-ons. People are normally very generous during this kind of special event and they normally would like to impress their other half. Create special desserts, cute chocolate boxes, candies that the customer can purchase for their loved ones. Make sure its memorable and is seen to be of value for their money. You will surely increase your revenue by a few more dollars. After all, Valentine's is only a one day event. So you need to get whatever sale that you are able to get.
Target Families
Don't only think Valentine's is just for couples, you can make Valentine's a family affair. Do a Brunch on Valentine's Day where the kids can join in. Give out little chocolate or sweet boxes to the kids and moms. You could even set up in a corner special Arts and Craft table where the kids can make Valentine's Day cards or gifts for their parents. Your restaurant will be booked with couples for dinner and its already decorated. So just open for lunch and you will have additional revenue.
Partner with a Local Business
Work with local business to come out with a special packages where both of you gain. You can partner with a local hotel or inn to come out with a dinner and room package. Maybe with transportation from the hotel to your restaurant. You can also partner with a local tour agency and created a package where the guest goes for a romantic river cruise, only then they come for their dinner. You can even partner up with a spa to come up with a spa package for two that includes dinner. The list is endless. There's the candy store, florist and jewelers that you can partner up to.
A Cupid's Corner
Nowadays for any special event, I like to create photo booths to suit the event. This is so people will take photos to remember the great time they had at our place. If its within your means hire a professional photographer, get their contact information and send them copies of the photos along with a special discount for having their Valentine's at your restaurant. Another way is to get one of those portable photo printers that can support memory cards or using bluetooth technology. The customer can take photos using their mobile and later you can give them the option of printing their favourite or their partner.
Show your Customers You Love Them
Valentine's is also a perfect time to show your customers you appreciate their support. You can give them special coupons for discounts by email. They just need to print and redeem at your restaurant. Visit your most loyal customer at their office or house with a large box of chocolates or flowers. Bring a cameraman and record their surprised and with their permission post the pictures on Facebook.
Romantic Picnic Baskets
If your restaurant is located near a park, by a river or even on the beach. Any avenue to get incremental revenue on this special day is to sell Romantic Picnic Baskets. As the resort where I am currently attached to has a swimming pool in every room, I plan to sell different Valentine's Picnic baskets. I am going to have a champagne and strawberry, one with wine and cheese and maybe one with some gourmet finger food. But you have to make sure your basket is light and most items are disposable as you won't get them back. Start selling your romantic picnic baskets 2 weeks ahead on your website or Facebook page.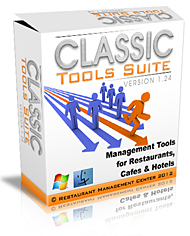 Product Restaurant Management Suite – CLASSIC (click on the resources page)