Some Halloween Articles to prepare your Restaurant for a Spooky Night
According to the National Retail Federation website, Halloween is gearing up to be the fastest growing consumer holiday.
"Consumers will celebrate the holiday in many different ways, but topping the list of planned activities is handing out candy (71.1%), while others will decorate their homes and yards (46.7%), and dress in costume (45.8%). One-third of Americans will be throw or attend a party (33.4%), which is up from last year (30.9%). " Record Number of Americans to Buy Halloween Costumes
Halloween like Valentine's Day and Mother's Day is another festival that is currently being promoted by businesses especially those related to Food and Beverage. Instead of doing it on the Halloween day like most establishments, we held our ipromotion for a week and on the Halloween's Day we made it really grand. As with most of my promotions in this blog, below is a simple account on how we organised our Halloween Week. Hope if it will be of some help for your establishment.
Read More Here :-Restaurant Promotion Idea #15:- Halloween Specials
October is the month to hold fun as well as scary promotional activities in your establishment. Its Halloween month. Host a Halloween bash in your bar or restaurant. If you are managing a restaurant come out with seasonal specialties such as Pumpkin Soup, Apple Cider Stew and so forth. Redesign the items by adding some gore into it. Send out free invitations to your regulars. Come out with humorous eye catching flyers. This year I am developing a doorknob flyer shaped like a white ghost and I will hang it on our room guest doors in the afternoons. This will certainly catch their attention when they return to their rooms in the evenings.
Read More here;- Restaurant Promotion for October – Fun & Scary Halloween



In my Halloween Promotion Idea Article a year ago, "Restaurant Promotion Idea #15 – Halloween Specials". I pointed out that there are a plenty of Halloween Home decorating tips in the World Wide Web that you could use in your restaurant or pub. These days my favourite site for searching decorations is Pinterest. Merely go to their search bar and type your search keywords and press enter. What's great is that Pinterest only displays the featured picture therefore its easy for you to skim through. Click on the picture you desire and navigate to the website. For me I save most of the interesting web page in Pockets, so as I can go through it later. Below are some sites of which I have found really interesting and I am going to make use of some of their ideas cause they are simple to do as well as inexpensive.
Read More here:- Inexpensive, Tasteful and Easy Halloween Decoration for your Restaurant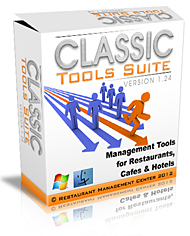 Product Restaurant Management Suite – CLASSIC (click on the resources page)
Website www.restaurantmanagementcenter.com/restaurant-management-classic 
Cost Only $37 with a 60 day money back guarantee
Our CLASSIC restaurant management suite is our original tool kit, it is a selection of restaurant management tools that when used in combination can help you streamline your restaurant, café or hotel. These pre-designed forms, templates and spreadsheets save you time to concentrate on other areas of the business and can be downloaded to your PC or Mac in less then 5 minutes
Included in the Restaurant Management CLASSIC suite:
• Human Resources
• Basic Restaurant Marketing
• Restaurant Business and financial planning
• Restaurant Customer service
• Cost control for food and beverage management
• Restaurant menu management
Also included in the CLASSIC suite is 5 special bonus items including:
• Restaurant menu engineering software (PC only)
• Breakeven Calculator
• Profit Calculator
• Roster Coster
• Datacard analyser